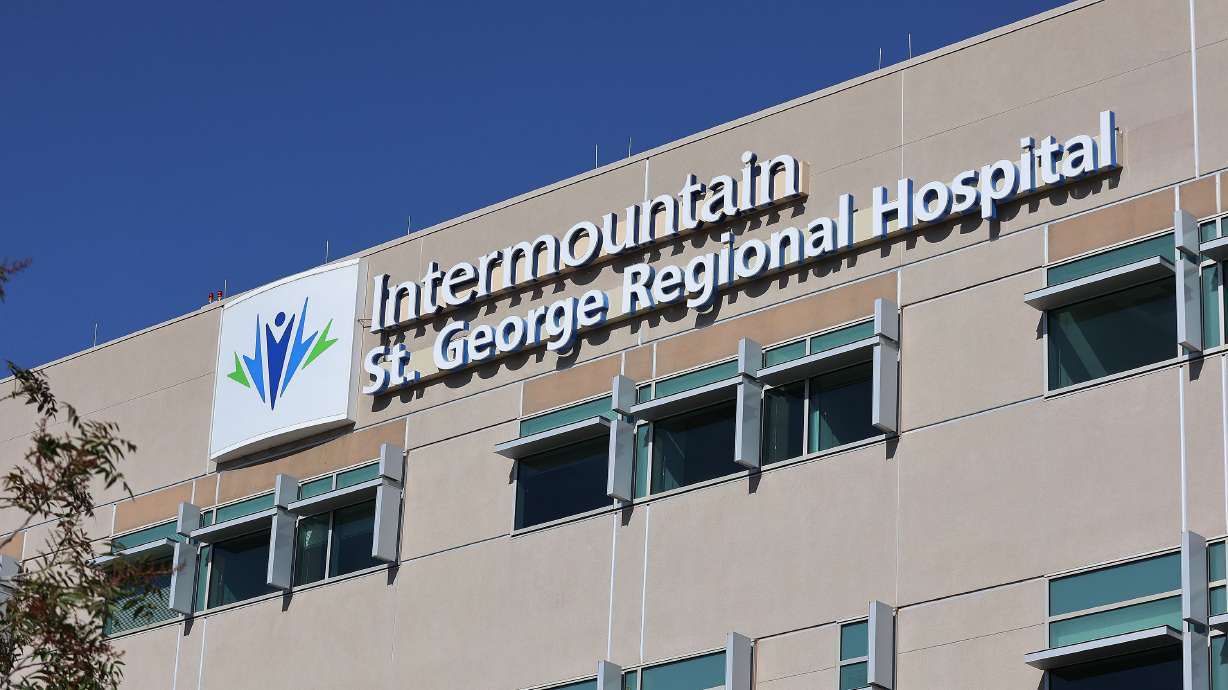 New organ donation program designed to save more time, more lives
Intermountain Healthcare's St. George Regional Hospital in St. George is pictured April 9. A new system used by Intermountain Healthcare and Donor Connect is designed to connect organ donors with people waiting for organs even more seamlessly through technology. (Jeffrey D. Allred, Deseret News)
Estimated reading time: 4-5 minutes
MURRAY — A new system used by Utah-based Intermountain Healthcare and DonorConnect aims to connect organ donors with people waiting for organs even more seamlessly, using technology.
What was until recently a phone call that took nurses away from a patient is now a matter of clicks, using a shared interface to send patient information already entered into Intermountain's system with Donor Connecta non-profit organization that facilitates organ donation throughout Intermountain West.
The new program, called iReferral, is expected to result in more organ donations as the process moves faster.
Taylor Albrecht, a nurse with Intermountain Healthcare Transplant Programsaid it will save them about 15-20 minutes for each organ donation referral and allow nurses to be at the patient's bedside instead of trying to call DonorConnect and communicate information.
"We already have most of this patient's information documented in our electronic medical record. And so, with just a few clicks, we are able to send a referral of this patient to Donor Connection," Albrecht said.
This allows nurses to have critical time at a patient's bedside.
DonorConnect's Brian Beck said the time saved is also important to them. They assess organ donors to determine if there is potential, then talk to the donor's family. If they go ahead with a donation, they need to help recipients get to transplant centers quickly and be ready for the operation.
"Time is running out," Beck said. "Lots of moving parts that need to get moving."
Beck said this system also allows DonorConnect to get all the necessary information at once, helping them to more quickly determine if it's possible to save a life with organ donation in every circumstance. He said this new system is significantly better.
A great team has been working on the collaboration with Intermountain for a few years, Beck said. They started using the system in the first intensive care unit on February 22, and it will soon be in every intensive care unit in Intermountain's system.
Ultimately, the iReferral shared interface will be used for organ and tissue donations across the Intermountain Healthcare system, and Beck said they also plan to set up similar collaborations with other hospital systems.
Albrecht said he helped with the use and training of nurses at Murray's Shock Trauma intensive care unit, where the program launched in February, and said it takes some practice, but once learned, the system makes a huge difference.
He said when they recognize the clinical triggers that there may be an opportunity for organ donation, it's simple to send the referral to DonorConnect.
Although the new program is not used directly by patients and their families, Albrecht said they benefit from the improvement because nurses spend less time away from a patient's bedside. He said the situation usually comes at a difficult time and the new system allows organ donation to be part of the family discussion earlier so he doesn't feel rushed. Albrecht also said it maximizes opportunities for donations, which means saving lives.
"It allows (families) to be able to take a lot of peace out of it, knowing that they can save as many lives as possible from a situation that was unfortunate for them," Albrecht said.
He said seeing both sides of successful organ transplants as a nurse in an intensive care unit also makes a difference for nurses and hospital staff.
"When it comes to these transplants, you can see immediate results…you can just see them immediately start to improve. And that really helps put a lot of that into perspective and it really helps lift the spirits," Albrecht said. said.
DonorConnect has connected 46 organ donors with recipients within the Intermountain Healthcare system so far this year. These 46 donors identified by Intermountain Healthcare helped approximately 170 beneficiaries.
Beck said DonorConnect screens between 10 and 30 potential organ donors to identify an organ donor, so the number of referrals DonorConnect receives is much higher. Since February, they have received around 300 referrals, and once the system is used throughout the Intermountain system, they anticipate 5,000 to 6,000 referrals each year.
×
Related stories
Latest Health Articles
More stories that might interest you