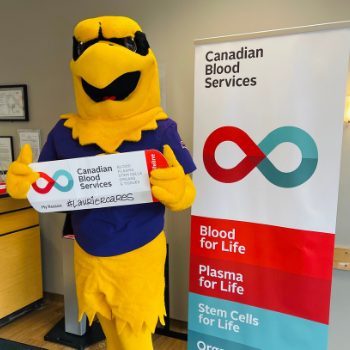 Laurier Graduate Student Association to host Waterloo Blood Clinic on March 17
Wilfrid Laurier University students know that donating blood provides a golden opportunity to help their community.
The Laurier Graduate Student Association will be holding a blood donation clinic on March 17 from 2 p.m. to 7 p.m. at Canadian Blood Services Waterloo Clinic, located at 94 Bridgeport Road. E. Donors can make an appointment online and use the university ID, WILF001529, to have their donation count towards Laurier's pledge goal. All members of the Laurier community are invited to donate.
Laurier is a proud supporter of Canadian Blood Services' Partners for Life program. Each year, Laurier commits to donating blood through the program. Laurier has promised 450 units of blood for 2022. So far this year, Laurier donors have contributed 92 units of blood.
The Canadian Blood Services Waterloo Clinic is open at the following times, but appointments must be booked in advance:
Monday to Thursday from 2 p.m. to 7 p.m.

Friday from 8 a.m. to noon.

Saturday from 8 a.m. to 1 p.m.
Mobile clinic appointments can also be booked online. The following clinics are planned in Waterloo Region and Brantford-Brant:
Elmira: March 25 at Lions Hall, 40 South St. W.

Cambridge: March 26 at the Ararat Youth Centre, 35 International Village Dr.

Brantford: April 5 and 16 at Hope Christian Reformed Church, 64 Buchanan Cr.

Ayr: April 7 at the North Dumfries Community Complex, 2958 Greenfield Rd.
It is safe to donate blood during the COVID-19 pandemic. Visit the Canadian Blood Services website for details on donor health requirements, screening measures and cleaning practices. If you are unsure if you are eligible to donate, please visit Canadian Blood Services' eligibility page or call 1-888-2-DONATE to speak to a nurse.