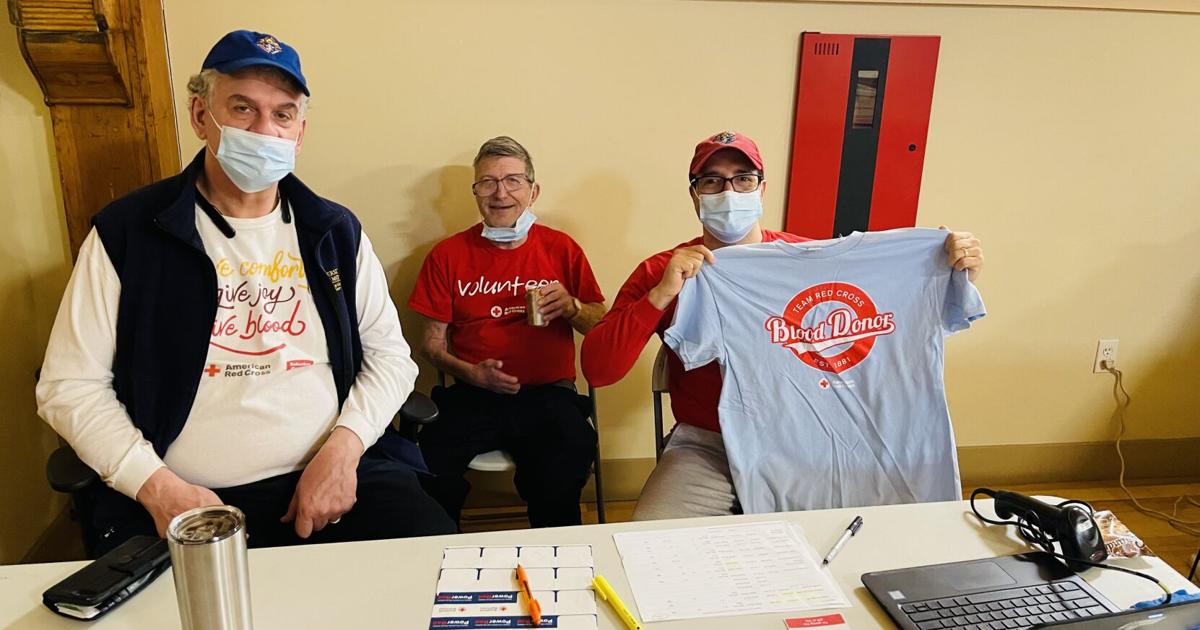 Knights of Columbus reaches 1,000th blood donor milestone in St. Albans | Community
ST. ALBANS CITY — More than 1,000 community members have now donated blood at blood drives hosted by Council 297 of the Knights of Columbus.
The milestone was reached on March 23, but the Knights have no plans to slow down.
When Valdemar Garibay became Grand Knight on July 1, 2020, he began thinking about how the St. Albans and Fairfield council could help respond to COVID-19.
"I was thinking about what would be a good community program to help with the COVID response, and I started thinking about blood drives," Garibay told The Messenger.
Since August 2020, the Knights have helped organize 35 blood drives in St. Albans in conjunction with the American Red Cross. Two to three were held nearly every month at St. Albans City Hall or St. Mary's Parish Center.
"It was fun," said Knight Gordon McRae. "I'm retired, so this stuff keeps me going."
On the day of a blood drive, volunteer Knights show up at the church or city hall to settle down. They stay for the duration of the campaign to set up and clean the beds and chairs, help people register and organize the event at the end.
"St. Albans City Hall has been really great with us," Garibay said, adding that the city has allowed the group to give away St. Albans t-shirts to donors. "I would also like to thank Holy Angels for allowing us to hold our blood drives at St. Mary's.
Council 297 received a certificate from the Red Cross to mark the milestone of 1,000 donors.
"Your selfless generosity has positively impacted thousands of lives and your efforts and support are greatly appreciated," the certificate reads.
Each drive in St. Albans has typically seen 28 to 32 donors, Garibay said, and when an individual donates 1 pint of blood, it's estimated to be helping at least three people.
Blood donors help patients of all ages: accident and burn victims, heart surgery and organ transplant patients, and those battling cancer. Every two seconds, someone in the United States needs blood, according to the Red Cross.
In addition to monthly drives, Council 297 held a special pre-Thanksgiving blood drive to collect food donations for Northwest Family Foods.
"I want to thank the community and the American Red Cross for their act of kindness to those in need," said Deputy Grand Knight Bill Greenwood, a regular blood drive volunteer.
The next Knights blood drive will be from 10 a.m. to 3 p.m. Friday, May 27 at St. Mary's Parish Center.