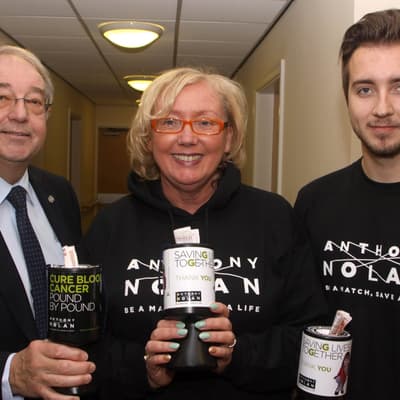 Finding Stem Cell Donors | iomtoday.co.im
We want to shine a light on lesser-known charities in the Isle of Man after two difficult years.
Our next entrant is the Anthony Nolan Charity (Isle of Man Friends) (#582).
We spoke to the president of the association, Ivan Bratty.
Who are you / What are you doing?
We are Anthony Nolan (Friends of the Isle of Man).
Our primary goal is to support Anthony Nolan by recruiting potential stem cell donors and raising funds to cover the costs of keeping these people on the registry.
The group was formed in 1991.
At that time, a lady called Jane St. John Bates had a nanny who suffered from leukemia. Jane wanted to do something to help and heard about the Anthony Nolan Bone Marrow Trust.
She started to form a committee with some of her friends and contacted the ANBMT.
Simon Dyson was a friend of mine through Round Table and suggested Jane contact me.
The group was created and I was elected president and have been president ever since.
What has been your greatest achievement or your greatest pride since your training?
I think our greatest achievement has been the number of local residents we have recruited who have become donors.
We only have a population of 84,000, but I know of over 30 people who have become donors.
What is your biggest ambition/goal for the future?
Our goal is to be able to visit the 6 secondary schools on the island each year and to recruit at least 200 potential donors each year.
How can people get involved?
Where can people find you and where can they donate?
We have a Facebook page: 'Anthony Nolan (Isle of Man Friends)' and if anyone would like more information about joining the Anthony Nolan Registry, they can do so here: anthonynolan.org/iomfriends
l If you would like to see your charity featured in this column for free, email: [email protected] for more details.