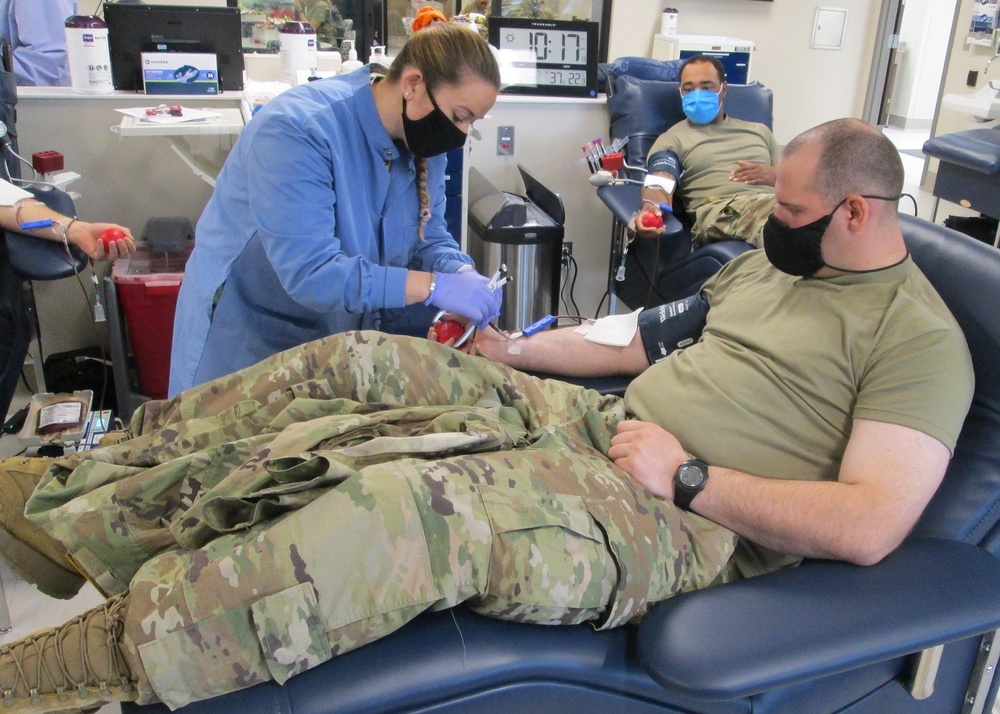 DVIDS – News – A Life Changing Year: Fort Leonard Wood Blood Donor Center donors continued to save lives in 2021
The Fort Leonard Wood community saved thousands of lives in 2021 by "lounging in comfort and watching a movie" at the Fort Leonard Wood Blood Donor Center (FLWBDC) in Missouri; the donor center's third highest fundraising year in the past decade. Last year, more than 7,000 volunteers rolled up their sleeves to donate vital blood to the Armed Services Blood Program (ASBP). The comfortable setup for blood donors, with snacks and TV screens, has been popular this year.
Since a unit can be separated into plasma and red blood cells, these donations could potentially translate to double the amount of blood products available to ill and injured people across the Department of Defense. Putting that into perspective, the blood collected could make a type of product available to every soldier in two medium-sized army brigades. In addition, the government has saved millions of dollars by not having to procure blood products from commercial sources.
"We can't thank those who donated with us in 2021 enough," said Army Lt. Col. James Burke, director of FLWBDC. "Your compassion saves lives around the world. We can only collect those from volunteer donors like you. Thank you for helping us help others.
Because Fort Leonard Wood is a training facility, the lion's share of donations came from soldiers in training in 2021, but FLWBDC staff also saw many donors from the permanent party and civilian communities. The military healthcare system requires hundreds of units of blood every day to meet operational needs around the world. Every donor is a true hero, according to Burke.
"It makes me proud to see so many young men and women donating to a cause bigger than themselves," he said. "Without them, we could not accomplish our mission. Donating blood is something most people don't think about until illness or injury strikes. We ask everyone to think of the people who are already there.
In total, more than 60 serving organizations donated blood to the FLWBDC last year. To salute those who have gone above and beyond, the staff offers its final list of the top 10 donating units for 2021.
1) Marine Corps Detachment (LPT Section)
2) 5th Engineer Battalion
3) Delta Company, 787th Military Police Battalion
4) Alpha Company, 35th Engineer Battalion
5) Delta Company, 554th Engineer Battalion
6) Bravo Company, 169th Engineer Battalion
7) Alpha Company, 554th Engineer Battalion
8) Physical training company
9) Tie: General Leonard Wood Army Community Hospital and Delta Company, 2nd Battalion, 10th Infantry Regiment
10) Maneuvering Assistance Center of Excellence Complex
"Donating is a simple act that doesn't take a lot of time but can have life-changing results. As we thank everyone who donated in 2021, we ask others to follow their example for another banner year in 2022."
For more information about the Fort Leonard Wood Blood Donor Center, call 573-596-6150 or email Carl.A.Norman2.civ@mail.mil.
About ASBP
Since 1962, the Armed Services Blood Program (ASBP) has been the sole supplier of blood for the US military. Our mission is to provide quality blood products and support military healthcare operations worldwide. The ASBP collects, processes, stores and distributes blood products to service members, their families and retirees in times of peace and war. In a business view ASBP – Military Health Affairs, Defense Health Agency, Service Blood Programs and Combat Commands – we operate under common goals, metrics, procedures and work together to shape the future . Our program also works closely with our civilian counterparts when needed to maximize the availability of this national treasure.
To learn more about ASBP or make an appointment to donate, please visit www.militaryblood.dod.mil. To interact directly with ASBP staff members or get the latest news, follow us @militaryblood on Facebook, Twitter, and @usmilitaryblood on Instagram. To see more photos or videos, find us on Flickr and YouTube at /militaryblood.
| | |
| --- | --- |
| Date taken: | 23.02.2022 |
| Date posted: | 24.02.2022 08:44 |
| Story ID: | 415110 |
| Location: | FORT LEONARD WOOD, MO, USA |
---
| | |
| --- | --- |
| Web views: | 34 |
| Downloads: | 0 |
---
PUBLIC DOMAIN


This work, A Life-Changing Year: Donors at the Fort Leonard Wood Blood Donor Center continued to save lives in 2021by Carl Normanidentified by DVDmust follow the restrictions listed at https://www.dvidshub.net/about/copyright.