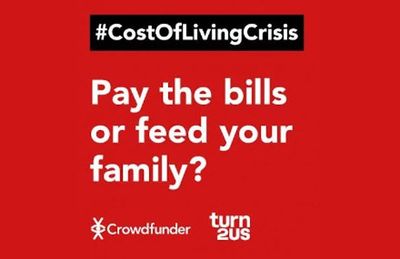 Crowdfunder to encourage all donors to also donate to the Turn2Us Cost of Living Crisis Appeal
Crowdfunder and Turn2Us have teamed up for the charity's latest fundraising appeal to help those struggling due to the cost of living crisis.
This means that everyone who donates to a fundraising appeal on the Crowdfunder platform will also be encouraged to donate to the Turn2Us appeal.
Turn2Us is a national anti-poverty charity, which expects demand for its support to grow as the impact of rising energy bills and inflation forces more people into financial hardship. .
In 2021, the charity answered over 100,000 phone calls.
Tracey Molineux, Head of Supporter Engagement at Turn2us, said: "For millions of us, the steep rise in the cost of living will no doubt mean people are faced with impossible choices between keeping a roof over their heads. above their heads or feed their children.
" It is not fair. We are already hearing how many household budgets simply cannot stretch any longer. We must not underestimate the scale of the crisis we face, especially as the next 12 months will plunge many families into financial hardship.
The number of households likely to experience "fuel stress" is expected to double to five million.
Simon Deverell, co-founder and creative director of Crowdfunder, added: "This is a dire situation and we want to do everything we can to support those facing the cost of living crisis, which is why we are working with Turn2us on their new call. ."
The two organizations have been discussing a potential partnership since last year.
Because this is a new approach, the charity has not set any particular targets or projections for its potential success. But a spokesperson told Civil Society News: 'Early signs have been very positive, with us having already exceeded the amount we raised on the winter appeal.