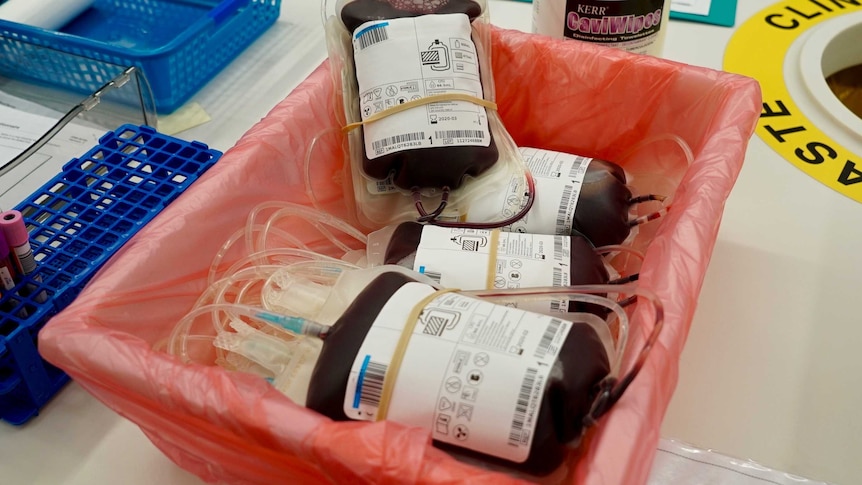 Blood donor services forced to reduce opening hours due to WA labor crisis
The workforce crisis in Western Australia caused by the pandemic is exacerbating a shortage of blood supply that affects the whole country.
Key points:
Workforce shortages force blood donation services to reduce opening hours
One out of two donors cancels their appointment during the day
The rise of elective surgeries is also putting pressure on supply
In November, it was announced that blood supplies in Australia had fallen to their lowest level in 10 years, and the Red Cross said the situation had not improved.
Lifeblood's executive director for donor services, Cath Stone, said it had been difficult to find workers to cover staff who had contracted COVID-19.
She said it affected the opening hours of several donation centers.
"We managed to maintain our openness, even if we had to cut [opening] hours.
"We are seeing a higher rate of work stoppages in our teams."
Labor shortages are the latest in a list of challenges caused by the pandemic.
Ms Stone said that although demand for blood was high, donor cancellations remained a significant problem.
She said the return of elective surgeries that had been delayed due to the pandemic were starting to increase at high volumes.
"People are putting off major checks for things like cancer; now we're seeing an increase in the rate of treatment.
"We expect that to continue for some time."
Each state in the country was experiencing the pandemic differently, she added.
Elective surgery always ends
Australian Medical Association WA president Mark Duncan-Smith said while elective surgery was taking off in the eastern states, WA had yet to regain full capacity.
Dr Duncan-Smith said that with elective surgery reduced in WA, he expected demand for blood in the state to be lower than in Eastern states.
"I think from a WA State-based perspective, I would expect the demand for blood supplies to be reduced from normal."
Ms Stone said WA was still experiencing a demand for blood as each state in the country experienced the pandemic differently and the demand was slightly different.
She said the Australian Red Cross continued to do all it could to meet the need for blood, which "remains every day of the year".