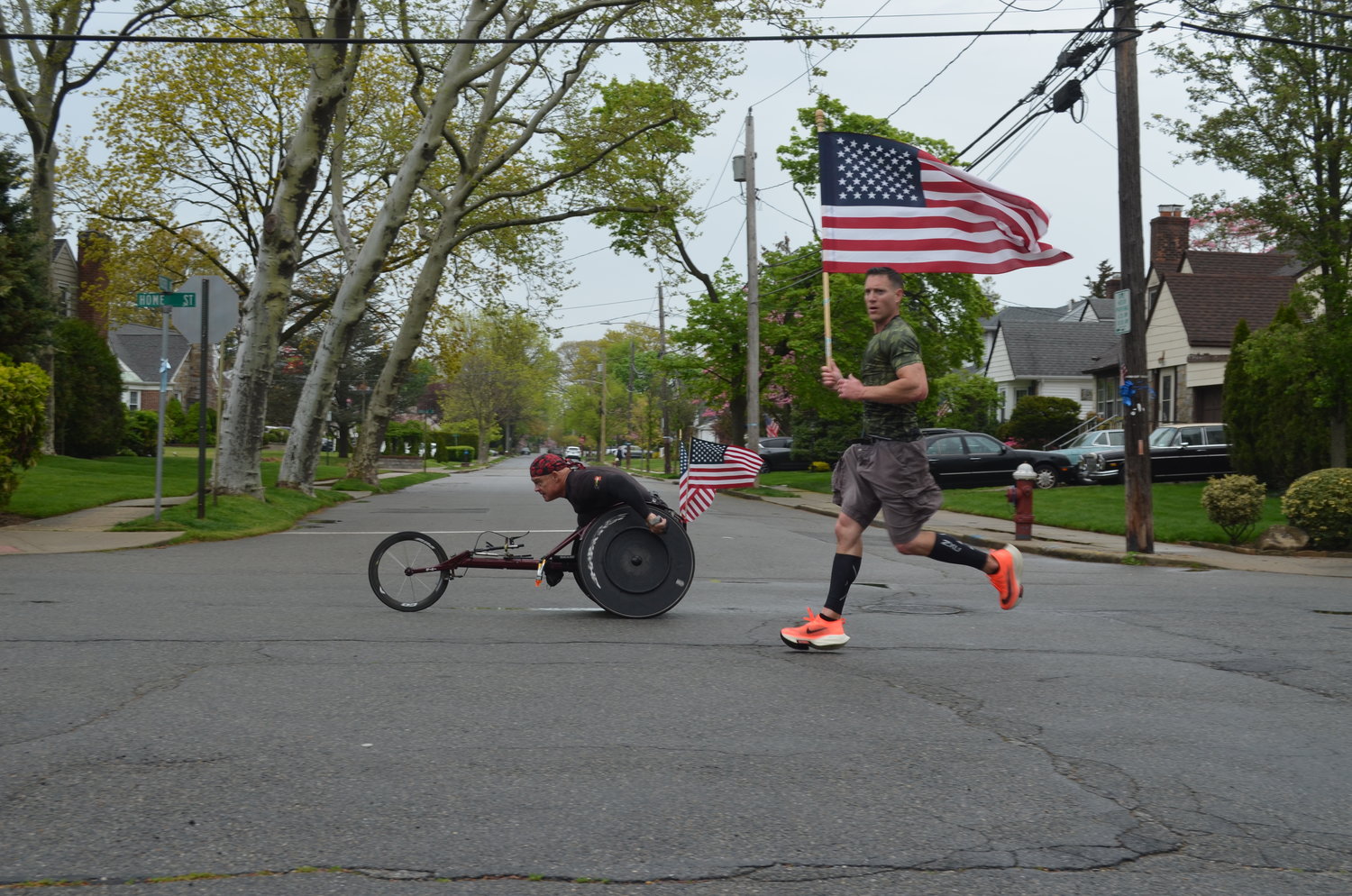 82 donors raise $7,000 for Operation Hero | Herald Community Newspapers
Last Friday, Gregory Waxman, known as the "Patriot Man" of Malverne, and world famous wheelchair athlete Peter Hawkins could be seen racing down Hempstead Avenue, Franklin Avenue and many side streets before loop around Foster Avenue through Westwood Park, followed by a fire truck brigade.
It was all part of the first annual 'Operation Hero' – a 50-mile charity run for veterans' and first responders' causes, which saw the pair run 3.75 miles through the village 13.3 times.
For the past three years, Waxman had participated in the Run around the lakea charity event in Ronkonkoma honoring Lt. Michael Murphy, a Navy SEAL from Ronkonkoma who died in the line of duty in 2005. However, Waxman felt responsible for starting a run locally to help his own community.
"Running around the lake is a great cause, but they have over 5,000 people participating in this run and they're already getting a lot of money," Waxman said. "So I thought another cause here might need some help, so I decided to start this to help the American Legion and Sgt. [Thomas] Winters, who died last year.
Malverne American Legion Post 44 will use the funds to donate a service dog to a veteran.
"Greg called us to tell us what he had in mind and he's helping us pay for a service dog," said Tony Marino, the post commander. "It's a great day and we're happy to see it, and Greg is making it happen and the American Legion thanks him."
sergeant. Winters was a 21-year-old member of the Malverne Police Department who died aged 55 last year. Prior to joining the department, he worked with the New York City Police Department Housing Bureau for 13 years, serving as a delegate for Police Department Area 9 in Ravenswood, Queens. The funds will be used to launch a scholarship in his honor.
The remaining funds will be donated to Steven McDonald Foundation in honor of former US Navy Hospital member, third generation NYPD police officer and husband of former Malverne Mayor Patti Ann McDonald. Aged 29 and two years on the force, Officer McDonald was shot three times and paralyzed in the line of duty in Central Park in July 1986.
At press time, $7,000 had been raised from 82 supporters.
Waxman became known as the 'Patriot Man' last year when he would be seen running around Malverne carrying the American flag to boost morale during the pandemic. He said he got the idea for the Ronkonkoma race, in which the last quarter mile is traditionally run while holding the flag.
"I used to race by myself, for myself, always looking for a best time for my age group," Waxman said Friday before his race. "When I started running with the flag, I realized that I was no longer running alone. People were waving, beeping and saying kind words. I felt a deeper connection to the fabric of the community or to whoever was driving on Hempstead or Franklin Avenue that day.
It inspired him to take his run through the village to the next level.
"That feeling was the impetus for creating this event today because if I could brighten someone's day at a regular practice run, imagine what I could do at a big planned event. like this one," Waxman said. "So we're going to go the extra mile today – 50 to be exact.
"We're going 50 miles just because it's not an easy task and what our veterans and first responders are doing is not easy," Waxman added. "Fifty miles is nothing compared to what they do."
Hawkins was involved in a car accident as a high school student and although the former football player never wanted to be a wheelchair athlete, it changed his life and took him all over the world .
"When I was 17 I thought it was all over for me, but then I got into this sport and it gave me a great outlet," Hawkins said. "I started wheelchair racing reluctantly four years after my accident and never thought it would take me around the world like it did. I did the Boston Marathon there. two weeks old the Long Island Marathon 27 times and I have raced in New York, Japan, Thailand and Korea It has changed my life in ways I never could have wait.
Naturally, joining Waxman's cause was a no-brainer.
"I see Greg at every race and he always carries the flag," Hawkins said. "We live two blocks from each other and he asked me if I wanted to be a part of it and I said I would love to. We are just local runners supporting each other for this great cause.
Malverne Mayor Keith Corbett said Waxman's work ethic is representative of the character of the village as a whole.
"The fact that Greg is willing to put his body through this ordeal all over the village he loves to raise money for the American Legion is a testament to the people of Malverne, and Greg exemplifies that character very well," said Corbett.
Next year, Waxman and the village plan to up the stakes with a 100-mile race from Malverne to Montauk.
"It was the original idea," Corbett said. "We just haven't had enough time this year to plan this, so we've decided to do everything with a focus on Malverne, and I'm going to help in any way I can by working with the local police services that I represents there."