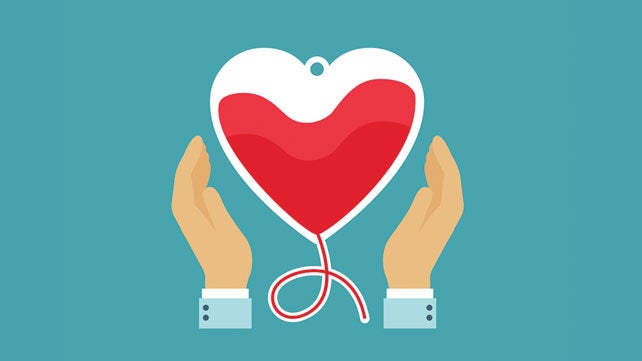 World Blood Donor Day highlights desperate need for donations
With a drop in blood donation, officials hope fewer restrictions will increase a base of potential donors.
"Thanks for saving my life."
That's the theme of World Blood Donor Day today, which emphasizes the power of donors to help those they may not know.
Many recipients are in fact too young to thank those who have donated. According to the World Health Organization (WHO), 65 percent blood transfusions in low-income countries are given to children under 5 years old.
Another group that needs safe donated blood are new mothers. Overall, approximately 800 women die every day from complications of pregnancy or childbirth. Donated blood can help save their lives.
"Safe blood transfusion is one of the essential life-saving interventions that should be available to patients who need them," Edward Kelley, MD, Ph.D., director of service delivery and safety at WHO , said in a press release. "Yet equitable access to safe blood remains a major challenge in many countries. "
Read more: Should you store or donate your child's umbilical cord blood? "
Worldwide, 108 million blood donations take place each year. Of these, half are from high-income countries, such as the United States. To maintain a reliable blood supply, WHO recommends an increase in the number of voluntary and unpaid donors because they have the lowest rate of blood-borne infections.
As voluntary donations increase in 72 countries, more than half of all blood donations come from paid or family donors.
In the United States, 9.2 million donors donate 15.7 million blood donations each year.
It may sound like a lot, but according to the American Red Cross, every two seconds someone in the United States needs blood. Their estimates indicate that while 38% of Americans are eligible to donate blood, less than 10% of them actually do.
According to the National Blood Collection and Utilization Survey Report, blood donation in the United States peaked in 2008 with 17.3 million units before falling back to 15.7 million units in 2011.
More than half of the blood donated in the United States comes from regular, unpaid donors.
Read more: Can Blood Transfusions Cause Allergies in Children? "
The Red Cross says the two most common reasons people don't donate blood are because they never thought about it and they don't like needles.
But there are many reasons why people are not allowed to donate blood, including not being healthy enough and restricting their donation for various reasons. But many of those restrictions are changing.
Since 1983 – at the height of the AIDS epidemic – the US Food and Drug Administration (FDA) did not accept donations of blood from men who have sex with men because the group is "at increased risk of contracting HIV, hepatitis B and certain other infections that can be transmitted by transfusion." This lifetime ban applied to any man who had sex with another man, even once, since 1977.
In May, FDA released draft guidance to end the lifetime ban but deferred donors who have had sex with a man in the past 12 months. The policy is in line with those that the major blood banks have put in place since 2000.
Another restriction applied to people who had new tattoos. Previously, they had to wait 12 months after receiving their tattoos. Since this age group is responsible for about half of all donated blood in the world and 40 percent of people aged 18 to 29 have at least one tattoo, drastically reducing people's ability to donate.
In May, the Blood Centers of the Pacific – which turned down 600 donors in 2014 because of tattoos – announced that as long as tattoos were done in state-regulated salons, the restrictions would not apply. more.
"For decades the pool of eligible blood donors has been reduced due to a myriad of restrictions, all with the safety of the blood supply in mind," said spokesperson Kent Corley in a press release. "Allowing people with tattoos in California to donate blood without having to wait a whole year is great news for the blood supply and for the Blood Centers of the Pacific. "
The Red Cross, which collects 40 percent of all blood in the United States, conducts blood drives across the country. Visit RedCrossBlood.org to find the nearest place where you can donate blood.
Read more: Science is getting closer to the creation of artificial human blood »