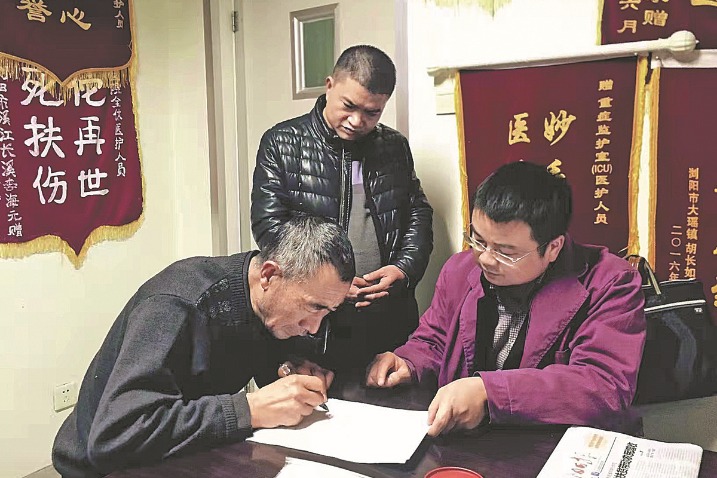 Organ donation coordinators turn death into life
After a video showing organ recipients expressing their thanks to a donor went viral in 2019, many viewers were moved to tears.
In it, the five people who received organs from the same donor, who loved to play basketball, formed their own team in commemoration.
"You gave me the gift of life, so I'm going to take back your passion," each of the five recipients said in the video. Dressed in sportswear bearing the date of the organ donation, the five recipients all identified themselves using the name of the donor.
Yet finding willing donors isn't always easy, and behind every donation lies the efforts of organ procurement coordinators.
Sometimes, as was the case with the parents of a 17-year-old boy in Changsha, Hunan province, who donated his heart, liver, lungs, kidneys and cornea to seven people in 2017, the first attempt is not always successful.
"It was really hard to ask them if they were willing to donate their organs, especially when they were mourning the loss of their only son," said Guo Yong, 40, director of the organization. supply of organs from the second hospital in Xiangya. South Central University in Changsha.
But in organ donation, time is critical. Vital organs can only be kept viable for a few days. As Guo and her colleagues counseled the parents, they worked slowly to establish a connection, but when asked, the parents refused.
"They called us heartless," Guo recalls. "We respected their grief, so we chose to step aside and wait."
Fortunately, the boy's parents eventually called back and accepted the donation.
Due to the traditional notion of the need to keep a body intact for the deceased to rest in peace, many Chinese people do not accept organ donations, said Guo, who started procurement work in 2010 when that he was pursuing a master's degree.
"In 2010, we had little experience in coordinating organ donations. It was a novelty in China," he said, and for the first two years his attempts ended in failure. frustration. "People didn't understand organ donation and didn't understand our work. To them it was like we were organ traffickers."
The situation is improving, as more and more people are starting to accept the idea. Over the past 10 years, Guo and his colleagues have successfully coordinated more than 900 cases, and his office has grown to 10 employees from just 2 in 2010.
The donation process includes interviews with doctors and family members of donors to screen candidates, then working with families, hospitals and transplant programs to facilitate an organ donation and matching process. succeeded.
"Counselling families about donation is critical to the success of the program," Guo said. "The ability to be kind and to show empathy is the basic quality that a coordinator needs."
He and his colleagues have visited the 17-year-old boy's parents regularly since they accepted the donation. They were invited to attend a sporting event in 2019 attended by organ recipients whose lives had been saved.
"Watching the recipients run, walk and jump brought relief to the parents. They said they made the right decision to donate their son's organs to help others live," Guo said.
"Our work is like building a bridge between life and death. We save people indirectly. That's why most of us in the office carry on, even though we encounter so many difficulties."
Every member of Guo's team is available by phone 24 hours a day. They respond immediately, even on holidays.
Guo suggested that the authorities issue regulations on the management of organ harvesting to ensure that the work goes smoothly and benefits more people.
He pledged to donate his own organs, as did other coordinators.
"Organ donation is giving life," he said. "We welcome anyone who wants to join in the work of building a bridge of life for patients on the brink of death."