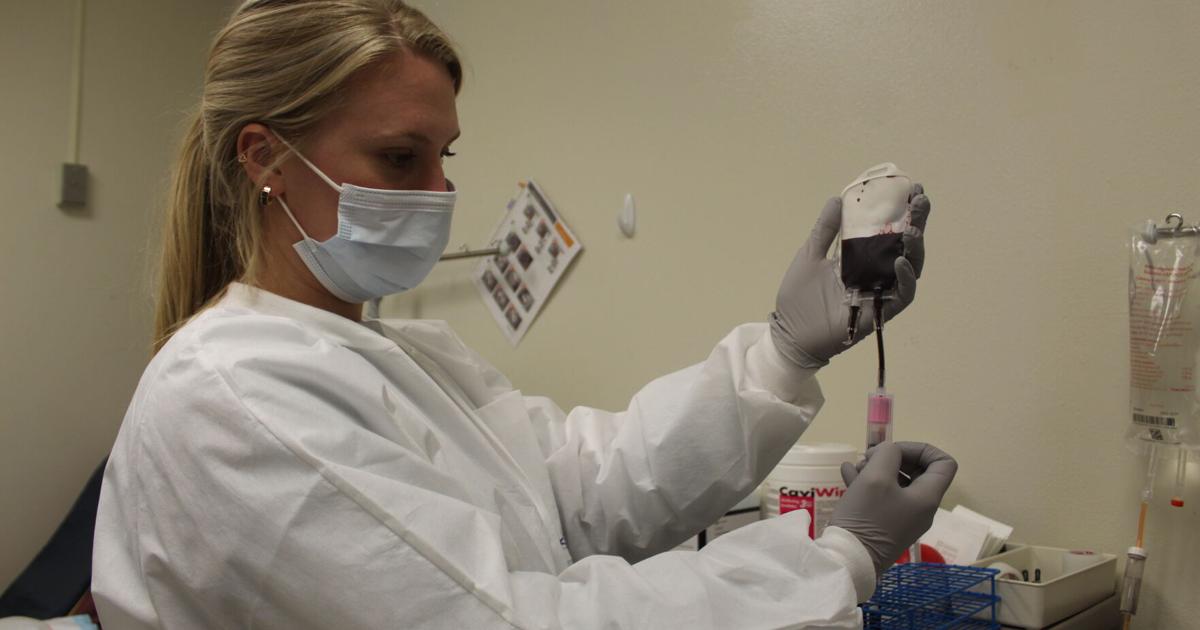 manager contributes to blood donation month | Editorial
The year 2022 has arrived and "The Great Place" is moving forward into the new year with many services provided to soldiers and their families, both locally and overseas.
One such service that is gaining more and more awareness is a blood drive provided by the Armed Service Blood Program for all service members.
Maj. Michele Allen, lab manager at the Carl R. Darnall Army Medical Center, brings his experience as a blood bank technologist.
She took a moment to reflect on the importance of donating blood to today's fighter.
What is National Blood Donor Month?
January marks the 52nd anniversary of National Blood Donor Month, and the Robertson Blood Center at Fort Hood has just reached its 20th year of serving all service members who donate lifesaving blood products to those in need.
"This center continues to carry out the mission of the Armed Forces Blood Program by providing quality blood products and support to military health care operations worldwide," Allen said.
Why is this important?
"Blood donations save lives every day. In fact, a whole blood donation can help save up to three lives. Hospitals need a constant flow of blood bank supplies every day," she said. "Right now, the blood supply to military blood centers across the country is very low, as many donors have just returned from vacation. We still have military units serving overseas in many other countries that depend on medical support.
"I returned from Kuwait last year while serving with Theater Enabling Medical Command (3rd Medical Command)," she explained. "We have supported all branches of the military deployed in over 13 different countries, including Afghanistan.
"Across missions, from wartime to peacetime, injuries from training accidents and medical emergencies requiring surgery were and still are common for all service members and their families stationed around the world," she said. "Your blood donation will help!"
What is the process?
Service members can schedule an appointment in person or over the phone with the nearest ASBP Blood Center. After registration, individuals undergo a basic health screening to determine their eligibility to donate. Once approved, donating whole blood can take up to 30 minutes. For plasma donations, the apheresis process will take up to two hours. After the blood draw is complete, people are treated with refreshments while they wait in the recovery area for up to 15 minutes.
Whole blood donors must wait eight weeks before donating again, while plasma donors can donate every four weeks.
To learn more about the Armed Forces Blood Program, visit www.militaryblood.dod.mil.
Where do all the donations go?
"The main mission of the blood bank is to support the fighter and donated blood units are set aside to go down," she said. "They reach remotely in a few days.
"What sets us apart from other blood services, like the American Red Cross, is that our blood has to go further (overseas). The blood we collect is also considered a "Tri-Service" product. It is not just Army medical units that receive these products, but all DoD sites where medical care is provided, including Navy and Air Force medical hospitals," said Allen added. "As our weekly quotas are met, we also send blood to other military hospitals such as Carl R. Darnall Medical Center here, Brooke Army Medical Center at Fort Sam Houston, VA Medical Clinics and other DoD sites when they have trouble meeting. their quotas.
Are blood donations at Fort Hood open to all military members?
Any military service member can donate as long as they are able to travel to Fort Hood and present their military ID.
"ASBP blood donations are only made at DoD facilities, not civilian hospitals or clinics," Allen said. "Service members can also donate at mobile blood drives located at DoD facilities to include DoD Medical Centers, Army National Guard Armories and Reserve Centers."
Can family members donate?
"Yes! My daughter has actually donated a few times. She is currently a high school student and will be going to college soon. My son has also donated multiple times throughout my service," Allen said. of the year, immediate and visiting family members with valid ID can go to the nearest ASBP Blood Center and make a donation. Contact the Donor Center for an appointment or just show up.
Where and how can I donate blood in Fort Hood?
Blood donations are urgently needed, so call 254-285-5808 to book an appointment or appointment today! The Robertson Blood Center is located at 2250 W. 761st Tank Battalion Avenue. Hours of operation are Monday through Friday, 7:30 a.m. to 3:30 p.m.